We dedicate this page to our retriever friends who have recently left us.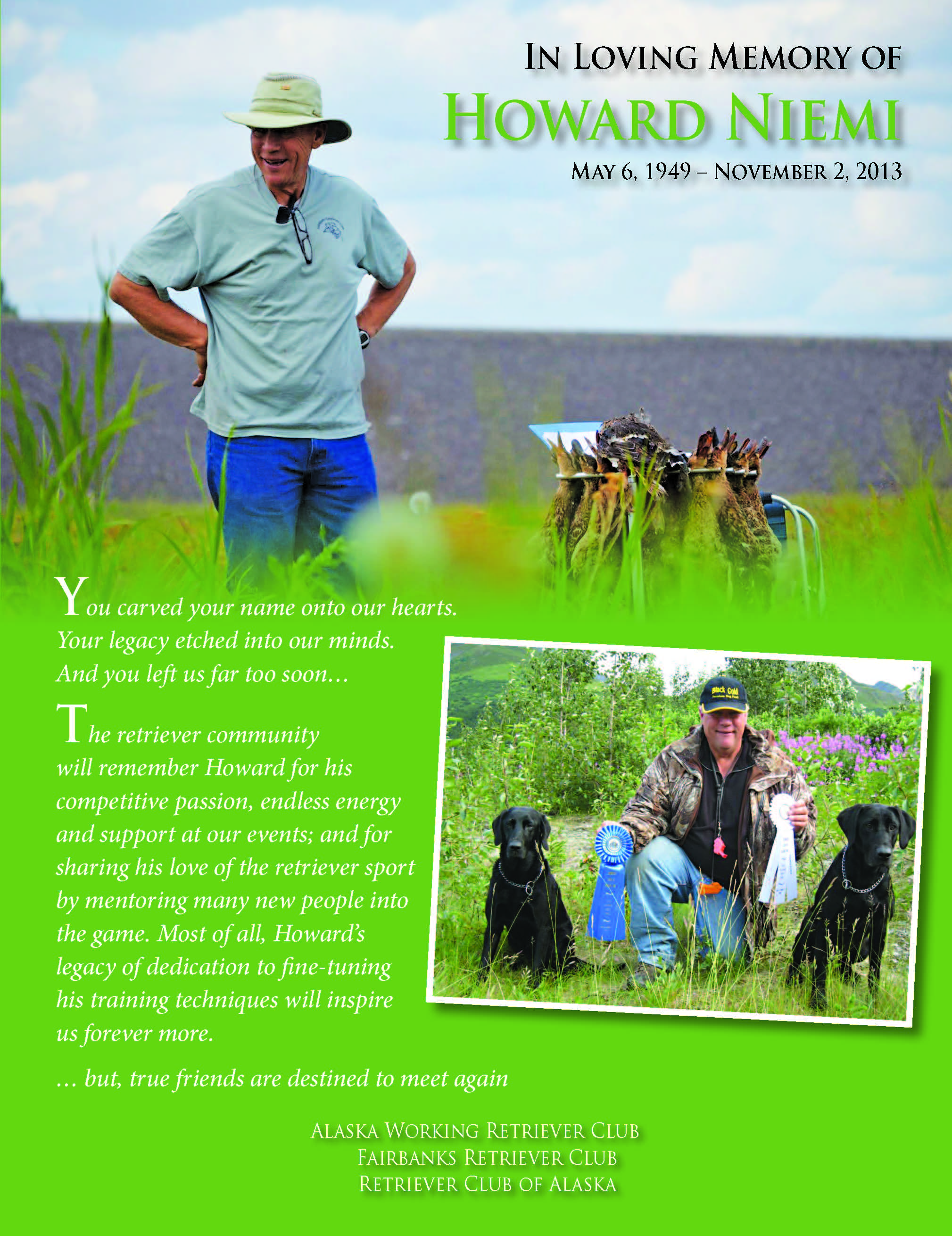 November 4, 2013
To Our Dear Friend Howard,
Thanks for all the help, the advice, the mentoring, the passion and most of all, the compassion you brought to all of us.  You served as an example of how to train our best friend, but more importantly also an example of how to love them.  All of us that were lucky enough to have known you will remember your loving attention to every puppy you met.  We will also remember how you dedicated yourself to showing everyone just how good those puppies could be become.
You probably didn't realize it, but you were one of the pillars that kept this retriever community from collapsing into a chaos on many, many occasions; year after year. We could always count on you.  Even though you won a lot of major stakes you were the first one to carry back the equipment from the field after a Trial or a Hunt Test; to volunteer for an event chairmanship; to serve as a Board Member; to judge a Minor Stake or more importantly, to accept someone into your training group if they wanted to learn.
I remember the day we met in 1990 when you and I attended the Woody Thurman seminar on retriever training put on by the NAHRA club.  You were always the better listener, and the better trainer because of it.  You took what you heard, read, and saw and adapted the lessons to your own style.
Your name is etched in those trophies with many other greats that have come before you.  Most of them had a lot more resources, but never any more competitive fire.  You, my friend, have given much to those of us that remain here for a while longer.  Eventually we all will add our name to the heavenly premium.  For the time I have left I want to make sure that every new trainer and competitor knows what you did for us.  I also pray that we can all look into the eyes of our puppies and see the greatness you saw in them.
Love always and farewell for now,
Mike Black and the Retriever Community