CONGRATULATIONS TO OUR WELL-DESERVED 2022 HOLITNA RIVER CAST AND BLAST RAFFLE WINNER:
SCOTT ANDERSON!!
AND TO OUR 2022 GUN RAFFLE WINNERS:
James DiCarlo – Stevens Featherweight Over-and-Under
Mike Anderson– Keystone 20 gauge
David Wallace – Bobwhite Side-by-Side
Glenn Gillette – Golden Boy .22
Tim Brooks – Ruger
     **************************************************************************
NEW FOR 2022!
In addition to our popular gun raffle this year, RCA is partnering up with Alaskan Adventures to offer an awesome Cast & Blast adventure on the Holitna River in interior Alaska!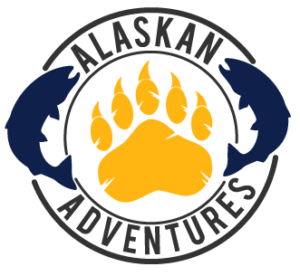 HOLITNA RIVER LODGE, ALASKA
Alaskan Adventures has generously donated a trip for one for fishing and waterfowl hunting at the Holitna River Lodge and guest cabins along the banks of the Holitna River, in remote interior Alaska!!  The Holitna River is a tributary of the Kuskokwim River, and the second largest drainage in Alaska next to the Yukon River. This special offering is valued at $5,500.00 (five thousand, five hundred dollars).  This adventure package includes alternating days of guided fishing (Coho salmon, Sheefish, Northern pike) and waterfowl hunting, all meals, and lodging for seven nights the week of September 2-9, 2022. Processing of fish and game and round-trip chartered airfare transportation from Anchorage to the Holitna River Lodge airstrip are also included. You can't beat this offer!! For your chance to win this great adventure, please contact any RCA Board member or look for us at your local Sportsman's Warehouse on select weekends to purchase tickets!
For additional details please see: https://alaskan-adventures.com/about/
2022 GUN RAFFLE!
Once again RCA is raffling off 5 guns this season! YOU could be one of the lucky winners!! This year we are raffling an amazing selection of guns including:
Stevens Featherweight – Model 555 Over-Under 20-gauge shotgun
Ruger American – 6.5 Creedmoor
Keystone Sporting Arms – Youth .22
CZ Bobwhite G2 –  Side by side 20-gauge
Henry – Golden Boy .22

Please contact any Board member to buy your ticket or offer to help promote ticket sales for the Club!
***************************************************************************************
CONGRATULATIONS TO OUR LUCKY 2021 GUN RAFFLES WINNERS!!
Glenn Gillette – Ruger 10/22 Bronze Cerakote 22 LR!
Mary Ann Probasco – TC Arms Triumph Bone Collector RT Edge 50 AND the Dickinson Arms Over and Under 12-Gauge Shotgun! Mary Ann is a second consecutive year gun raffle winner!! 
Mike Hodson – Mossberg Model 500 Bantam Pump Action 20-Gauge Shotgun!
********************************************************************************
2021 Gun Raffle! 
We have four straight shootin' guns up for raffle this year!!
Please contact any board member to purchase your chance to win!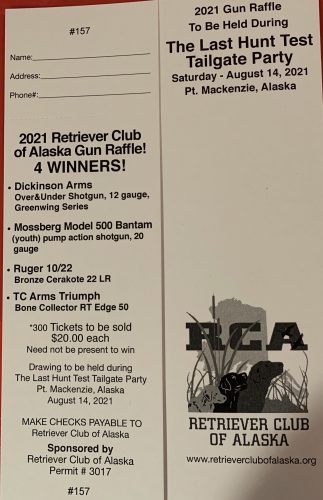 *************************************
Each year RCA holds a fundraiser to help support our AKC field trial and hunt test events. There are many costs associated with hosting the events and the fundraiser helps offset ever-increasing costs.
Our most successful past fundraiser was the annual pheasant hunt raffle hosted by the Club for many years. Recently, we have held raffles for fishing and hunting trips, gun raffles, and chances to win fabulous prizes. We welcome your ideas to help us generate sufficient funds to keep RCA thriving and growing.
The draw for the lucky raffle winner is typically held at the August Double Header Hunt Test tailgate party. This is our grande finale event of each field season and draws large participation from both hunt test and field trial folks.
The RCA Board is currently planning the fundraiser event for 2022 and 2023. If you have some great ideas, please contact President Harry Strahle to share your thoughts!