2021 Gun Raffle! 
We have four straight shootin' guns up for raffle this year!!
Please contact any board member to purchase your chance to win!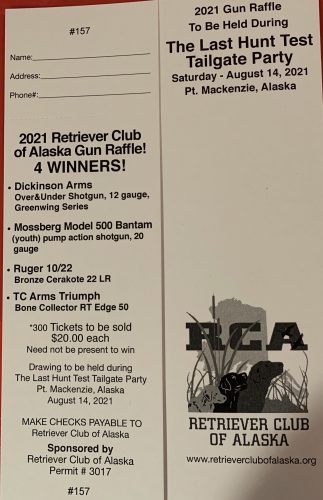 *************************************
CONGRATULATIONS TO OUR 2020 GUN RAFFLE WINNERS!!
Cindi Little – Remington Model 700 SPS 300-win mag
Mack Thompson – Weatherby Element Waterfowler Max-5 Semi-Automatic 20 gauge
Mary Ann Probasco – Henry Golden Boy Youth Lever-Action 22LR
 Brian Stuart – Marlin Model 60 Semi-automatic 22LR
*****************************************************************************
Each year RCA holds a fundraiser to help support our AKC field trial and hunt test events. There are many costs associated with hosting the events and the fundraiser helps offset ever increasing costs.
Our most successful past fundraiser was the annual pheasant hunt raffle hosted by the Club for many years. Recently, we have held raffles for fishing and hunting trips, or a chance to win fabulous prizes. We welcome your ideas to help us generate sufficient funds to keep RCA thriving and growing.
The draw for the lucky raffle winner is typically held at the August Double Header Hunt Test tailgate party.  This is our grande finale event of each field season and draws large participation from both hunt test and field trial folks.
The RCA Board is currently planning the fundraiser event for 2021 and 2022.  If you have some great ideas, please contact President Harry Strahle to share your thoughts!